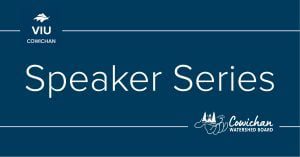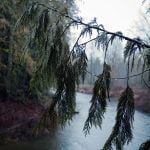 Central to local culture and ecosystems for millennia, this tree, called XPey' by the Quw'utsun indigenous people, is under stress in our watershed. Learn why, and what Quw'utsun elders, tree scientists, and others are doing to safeguard Cedar for the future.
Speakers:
Qwiyahwultuhw Robert George, elder, (Quw'utsun' Cultural Connections),
Heather Pritchard, eco-forestry consultant, and
Lise van der Merwe, research scientist, Cowichan Lake Research Station, BC Ministry of Forests
The event will be facilitated by Cowichan Watershed Board member, CVRD Director, and forest ecologist, Alison Nicholson.
This event is presented in partnership with Quw'utsun' Cultural Connections.
Download the poster here or join the Facebook event page here
The Speakers Series features engaging speakers sharing their knowledge and expertise on topics relevant to the well-being and sustainability of the Cowichan watershed, within Quw'utsun territory. The series is hosted by the Cowichan Watershed Board, with the support of VIU Cowichan and the Real Estate Foundation of BC, and our generous speakers. It occurs on the 3rd Monday of the month, in select months.
---
PREVIOUSLY IN THE SPEAKERS SERIES
2020
Feb - The Koksilah - Learning our Landscape. Ecologist and Registered Professional Forester, Heather Pritchard, will present the first phase of work commissioned by the Cowichan Station Area Association's Koksilah Working Group, "An Ecosystem-Based Analysis of the Koksilah River Watershed." Heather's presentation will describe the methodology and findings of the project, focusing on the historical character and current condition of the watershed. More info: https://cowichanstation.org/koksilah/
Jan - We Need to Talk: How to talk about the Climate Crisis in your Social Circles in ways that Spark Engagement instead of Ostracism. With Will Cole-Hamilton. (Full presentation - Please note that Will is happy to present in person to other groups if you are able to arrange a venue.)
2019
Nov- Watch out Suckers! Considering Cowichan Lake Lamprey in Watershed Management. With Joy Wade
Oct - Wild Fins - with Dr. Dave Preikshot Apr - The Warmer Land - Earth Week Speakers Night. (See Tom's section of this night here: https://youtu.be/IGSMkGDAwio)
Mar - Willi Jansen & Mark Kissinger, The Enforcers: Meet our Conservation and Fishery Officers Feb - Killer Whales and Legal Tales, with EcoJustice Lawyer Devon Page 2018 Nov - Voices of our Watersheds Oct - Bringing Back the Bluebirds with Genevieve Singleton Sep - Will Duguid, Chinook Growing Pains Apr - Elke Wind, Amphibian Biologist Mar - Gord & Anne Baird, Rainwater Harvest, Greywaters Systems Feb - David Polster, Restoring Damaged Systems Using Native Plants Jan - Al Gore, An Inconvenient Sequel 2017 Oct - Tom Gleeson, How Much Groundwater is on Earth Sep - Natalie Anderson & Paul Siggers, Walking in the Watershed: A Cowichan Tribe's Perspective Jun - Ben Robinson, WELL SMART! - Get to know your H2O May - John Borrows, Sources & Contemporary Uses of Indigenous Law Apr - Jackie Hildering, Humpback Comeback Mar - Kevin Pellett, Take a Peek at our PITs! Feb - Nikki Wright, Inshore Marine Habitats 2016 Nov - Dr. Dave Preikshot, Salmon in the Somenos Basin Sep - Oliver Brandes & Rosie Simms, BC's new Water Law Jun - Dr. Bethany L. Coulthard, Forecasting Drought through Tree-rings May - Stan Orchard, The American Bullfrog Apr - David Campbell, Flow Forecasting with Snow-Pillow Technology Mar - Elizabeth May, Climate Change Jan - Emily Doyle-Yamaguchi, Bruce Fraser & Barry Gates, EcoForestry
---